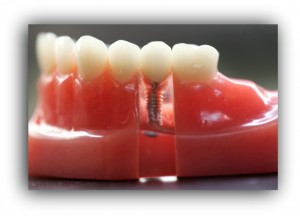 Dental Implant treatments are an alternative that allow patients to have the function of real teeth without the need for traditional bridges, partial dentures or full dentures. Unlike those treatments, an implant is placed directly into the jaw where it becomes fused to the bone. This makes an implant look and feel just like a natural tooth. Implants restore the function of missing teeth.
Implants are artificial tooth roots that are made of titanium. When placed, bone and bone cells will grow right against the material and amalgamate with the titanium. The body does not reject the material nor recognize it as foreign. Titanium is also the only material that can support biting forces when placed in the mouth.
Single & Multiple Implants– if you have several missing teeth, you may be a good candidate for getting several dental implants to restore your smile. In some cases, a dental bridge may be needed to replace multiple missing teeth.
Implants Vs Dentures –Dental implants are one of the most versatile options for replacing missing teeth and can be effective for replacing single or multiple missing teeth. We have found that many patients with dentures end up switching over to dental implants to improve their comfort level and enjoy a better quality of life. Dental implants can preserve your aesthetic appearance while preventing bone loss.
How Do Dental Implants Work?
There are two main steps when it comes to getting implants. The first step is the placement of the implant.  This happens under oral sedation, making it quite painless. Dr. Seddon will open up a flap to show the jawbone. After that a small hole is made in the bone and the titanium implant is put into position. During this first step, bone and soft tissue grafts are sometimes also necessary to ensure optimal performance for the implant. Once the implant is in place, it will be about three months before the placement of the new tooth. Here, Dr. Seddon will connect a metal cylinder (called the abutment) to the implant that the new tooth will be built onto. Then, an impression is taken and sent to the lab for them to build a new tooth that will be placed atop the abutment. After the completed tooth returns from the lab, Dr. Seddon will secure it in place and make any final adjustments. At that point, your brand new smile is ready to be shown off.
Why Get Implants?
Implants offer many advantages over other solutions such as standard bridges and dentures.
Durability – Whereas bridges have a life expectancy of about 10 years, implants are a permanent alternative. Implants bond strongly to the jaw bone like a natural tooth root, while bridges rely on the other teeth around them for support.
Better oral health – With bridges, bone loss occurs naturally at the site of the missing tooth and with partial dentures, this bone loss is accelerated. With an implant, not only is this loss of bone prevented, but healthy adjacent teeth are also spared the cutting down that often accompanies bridgework.
Improved oral hygiene – With implants, everyday dental care like brushing and flossing is often easier and less time-consuming than with bridges.
Better aesthetics – Modern implant technology allows for implant teeth that look exactly like natural teeth.
Call Us Today To Book An Appointment
If you are ready to take charge of your oral health, please email us or call 604-922-0144 to schedule an appointment with us today for your better smile tomorrow.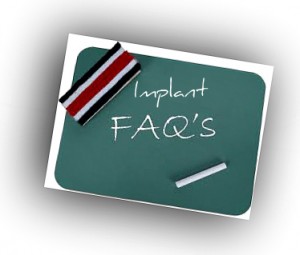 Implant Dentistry FAQs
ARE THERE ANY RISKS TO DENTAL IMPLANTS?
HOW MUCH DO IMPLANTS COST?
Do I need to do anything special before or after the surgery?