Do you have missing teeth?
Many adults who have reached middle age have lost one or more of their permanent teeth. Tooth loss may be the result of tooth decay, an injury, or gum disease. Fortunately, there are some permanent tooth replacement solutions available for adults with missing teeth.
What are dental implants?
Implants are artificial tooth roots that are made of titanium. When placed, bone and bone cells will grow right against the material and amalgamate with the titanium. The body does not reject the material nor recognize it as foreign. Titanium is also the only material that can support biting forces when placed in the mouth.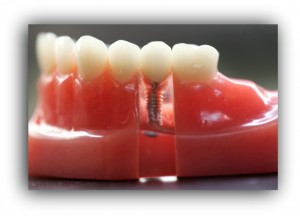 Titanium alloy material is superior to surgical stainless steel. Although it has been used in medicine for years for pins and artificial joints, stainless steel is only tolerated by the body. Unlike with titanium the bone does not fuse with it. Surgical stainless steel is great for joints, but it will not withstand the pressures and forces put it on by the teeth.
The procedure for getting a dental implant is straightforward. Once the implant is placed in the bone, a healing cap is put on it to allow for the bone to integrate with the implant.
Dental implants restore proper chewing function and are the closest thing to natural teeth. Having implants stops progressive bone loss, improves appearance and can improve speech.
Understanding tooth loss and implants
More than two-thirds of the adult population ends up losing at least one tooth by the time they reach their mid-30s or early 40s. Many end up losing all of their teeth by the time they reach their mid-70s. Today's advances in dentistry allow us to replace missing teeth with dentures, fixed bridges, and dental implants so that the patient is able to eat and speak clearly.
However, it is important to note that some of these tooth replacement procedures are not without complications. For instance, dentures can make clicking sounds if they are shifting around in the mouth and are not fitted properly. Bridges require grinding down healthy teeth and this can trigger other oral health problems.
Dental implants deliver predictable and long-lasting results. The titanium implant is fused directly into the jawbone and is designed to look just like your real teeth. They also stimulate the jaw bone so there is no risk of bone deterioration. Learn more about effective tooth replacement procedures by scheduling your consultation with Dr. Seddon and Dr. Dhillon today.
Dental Implants Procedure
Dr. Tina Dhillon and Dr. Nick Seddon may recommend dental implants as a tooth replacement procedure because dental implants restore the function and appearance of the smile without complications. They are now a preferred method over dentures and bridges for replacing missing teeth in adults.
For more information about the benefits of dental implants, don't hesitate and call to schedule your free consultation with Dr. Dhillon or Dr. Seddon today! Both Dr. Dhillon and Dr. Seddon are highly experienced with dental implants and happy to provide information or answer any questions new or existing patients in West Vancouver and North Vancouver may have regarding dental implant procedures or any other cosmetic or general dentistry procedures.