This year's Pacific Dental Conference took place March 7-9 and it was one of the best conferences that I've ever been to. The city's dental professionals descended upon the Vancouver Convention Centre for a full three days of education, browsing, shopping and networking. Top dental brands such as Oral-B, Henry Schein, Nobel Biocare, Sinclair Dental. Frontier Dental and American Express were on hand to showcase their excellent products and services. Live surgeries were conducted on the main stage and seminars were held throughout each day of the conference. These ranged from Social Media Awareness for the Dental Professional to Oral Surgery for the Dental Professional. For example, a course on surgery covered topics such as the use of anaesthesia lidocaine and prilocaine, and the technique for mandibular block to aim high in mouth for maximum anesthesia. Surgical elevators for different types of extraction, such as the Hu Friedy, were found to be the most enduring and consistent for wisdom teeth exos, thus saving the buccal plate during anterior extractions that require implants.
One of the most powerful speakers was Eva Grayzel who is an ardent advocate for the detection of early oral cancer. She travels from city to city to speak about her traumatic ordeal in dealing with dentists who were not familiar with mouth ulcerations and oral cancer. In fact, Grayzel wished that the dentists who had treated her would have showed more concern for her condition as it turned out to be oral cancer; diagnosed late. Fortunately for her, she managed to survive this painful experience and now speaks strongly about the need for dentists to be able to detect oral cancer early on.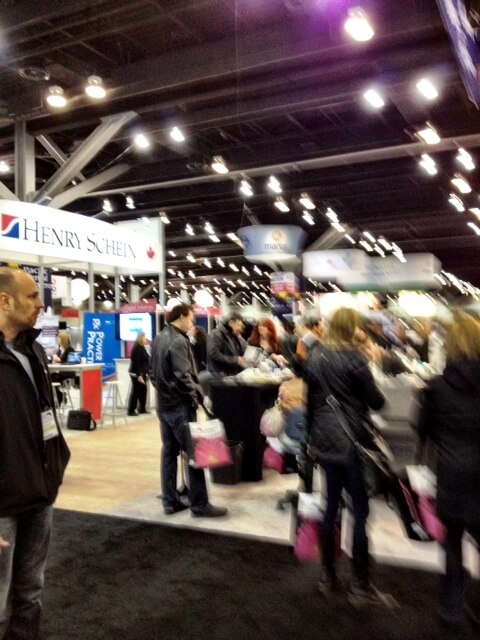 Another fascinating aspect of the conference was being able to test numerous products such as the Zeiss Cinemizer which allows for patients to watch 3D videos with superior sound while in the dental chair. There were also many dental residential students milling about and they were eager to ask exhibitors a variety of questions. I watched as two students carefully chose dental loupes to purchase and afterwards, to get measured for their custom specifications. Sinclair Dental made a particularly lasting impression on conference attendees as they handed out yellow roses to people (mainly females). With yellow being Sinclair Dental's signature colour, I would presume that the females (or males) would not likely soon forget this lovely gesture.